Saints Nation: Saints Land Jonathon Amaya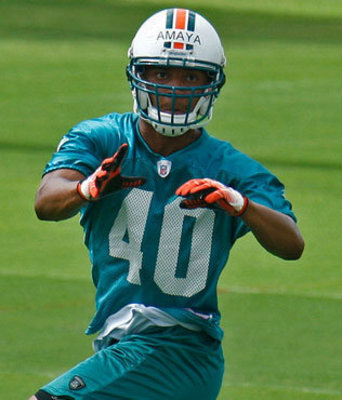 As compensation for Reggie Bush, the Saints have received Dolphins' reserve safety
Jonathon Amaya
. Amaya was an undrafted rookie free agent last year out of Nevada who made the team and played mostly on special teams. He led the team with 15 tackles on special teams and is regarded as an ace who can come in and help the Saints immediately.
It's still undetermined if that's all or just a portion of what the Saints received as compensation
for the trade (besides a boatload of cap space). Amaya will also provide depth in the defensive backfield.
Other Saints news:
Remi Ayodele has signed a 3 year deal with the Vikings
worth $9 million. There was no chance the Saints would ever have paid close to that much.
The Saints have signed rookie 7th round draft choices
DE Greg Romeus and LB Nate Bussey.