Saints Nation: History with the Saints' First Pick, 89th Overall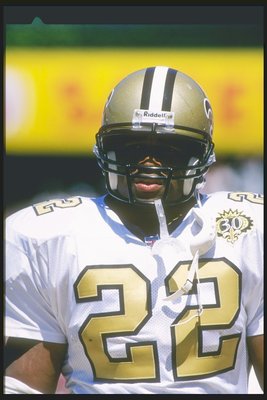 With the 1st round pick already traded away to the Patriots for the rights to pick Mark Ingram, and the 2nd round pick forfeited, the Saints won't pick till 89th overall in the draft, good for a 3rd round selection. That's not exactly high enough to land one of the surest bets at playmaker, but hopefully the Saints can get a capable and promising player to fall to them. History hasn't been kind to the 89th pick, though, so the Saints will have to hope they can one up the past and strike gold.
While the 89th pick hasn't been a good one since 1990, there have been some gems. The most notable one, by far, is Terrell Owens, who needs no introduction. The Saints since 1990 have only picked 89th one other time, and they turned in one of the best in FB Lorenzo Neal (pictured). The other "star" picked 89th overall since 1990 was RB Chris Warren who was a star with the Seahawks. After that, I'd say 3-4 players were solid at some point (Okeafor, Cook, Akin Ayodele) and the rest were mostly garbage. So that puts the Saints at about a 30% chance of getting someone "decent" and less than a 15% chance of drafting a star. It's worth noting that three of the last 21 89th overall picks have been Chris Warren, Lorenzo Neal and Terrell Owens, though.
Let's take a look at who's been picked 89th overall since 1990:
2011: Chargers select Shareece Wright, DB, USC (played in 7 games last year, registering just 4 tackles)
2010: Panthers select Armanti Edwards, WR/QB, App. St (hasn't amounted to anything yet. Former QB trying to learn a new position)
2009: Titans select Jared Cook, TE, South Carolina (turning into a decent player, had 759 yards receiving last year)
2008: Texans select Steve Slaton, RB, West Virginia (ran for over 1,200 yards and was a star his rookie year, and has been a flop ever since)
2007: Packers select Aaron Rouse, S, Virginia Teach (started 18 of 41 games played. Won Super Bowl as key reserve for Giants)
2006: Panthers select Rashad Butler, T, Miami (reserve that started 4 games in 6 seasons)
2005: Panthers select Atiyyah Ellison, DT, Missouri (16 career tackles)
2004: Eagles select Matt Ware, DB, UCLA (reserve player, 1 career INT)
2003: 49ers select Andrew Williams, DE, Miami (played just 2 seasons, 12 career tackles)
2002: Jaguars select Akin Ayodele, LB, Purdue (solid 9 year career, mostly as a starter)
2001: Raiders select DeLawrence Grant, DE, Oregon St. (5 year career, 7 career sacks)
2000: Bills select Corey Moore, LB, Virginia Tech (played sparingly for just 2 seasons)
1999: 49ers select Chike Okeafor, LB, Purdue (solid 11 year career, mostly a starter)
1998: 49ers select Chris Ruhman, T, Texas A&M (played 3 seasons, started 2 games)
1997: Patriots select Chris Carter, DB, Texas (6 seasons, 5 career INTs)
1996: 49ers select Terrell Owens, WR Tennessee-Chattanooga (6 time Pro Bowler, 2nd all time in career receiving yards, 5th all time in career receptions)
1995: Oilers select Rodney Thomas, RB, Texas A&M (7 year career, reserve player and backup. 12 career TDs)
1994: Cardinals select Eric England, DE, Teaxas A&M (4 year career, no sacks)
1993: Saints select Lorenzo Neal, RB, Fresno State (4 time Pro Bowler, played 17 seasons)
1992: 49ers select Mark Thomas, DE, N.C. St. (played 10 seasons, 27 career sacks)
1991: Broncos select Derek Russell, WR, Arkansas (played 7 seasons, 8 career TDs)
1990: Seahawks select Chris Warren, RB, Ferrum (3 Time Pro Bowler, solid 11 year career)
[follow]