Saints Nation: Adrian Arrington Not Going Away Easily So Far in Camp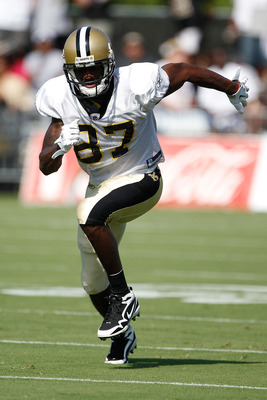 It's still very early in camp but all accounts suggest Adrian Arrington is having a fantastic one so far. The departure of Robert Meachem to the Chargers this offseason has opened the door wide for someone to step up and become the Saints' fourth receiver. Arrington's ability to hang around the roster appeared to be coming to an end with the emergence of Joe Morgan last preseason as well as the drafting of Nick Toon this year. But he has responded by having the best start to a camp of his career. In fact, he's been better than Devery Henderson who has struggled so far. The rookie Nick Toon, by comparison, has struggled mightly early on as he tries to get adjusted to NFL life. Arrington's injury history is extensive enough that one small nick or setback could be the final straw, but for the time being the Saints are going to have an extremely hard time justifying his released if he continues at this pace.
It would be one thing if Nick Toon was going toe to toe with Arrington, but he's apparently in the weeds and really struggling big time so far. It'll definitely be something to keep a very close eye on in the Hall of Fame game this upcoming weekend. Joe Morgan is apparently doing a pretty good job, too, especially making explosive plays downfield. I've maintained the Saints will likely keep two of Arrington, Morgan and Toon. Arrington and Morgan both missed their respective inaugural seasons with injuries so getting through camp and preseason healthy is no given here. There's a strong chance injuries will dictate in the end which of the three guys the Saints will retain. Admittedly, we're still a very long way away from figuring that out. If the preseason ended today, though, Arrington would be the clear cut favorite to land a top four spot on the receiving core.
[follow]
Toon is a 4th round pick, 2nd saints pick... I guess they will keep him. Morgan, unlike arrington can be on the practice squad. If you put it like tge way you put it, that will most likely be the case. However I see a 3rd posibility... I don't know if it is possible to cut, but a trade is most definately an option for henderson. Entering his last year of his contract, being not really impressive last year, being bad in trainingcamp... I suggest he be traded to a team that needs a speedy guy. Get morgan the deep threath job. 3rd and long, 4 reciever, bring in fresh, not often used punt and kick returner #5 reciever morgan and drop the bomb on speedy gonzalez #2 for a TD. They won't put the best CB on him as he is reciever #5. Guarranteed 1st down.... If he makes the catch.
 @MarijnPessers Antonio Pittman was a 4th round pick too. Al Woods was a 3rd round pick. If you're not good enough the Saints will cut you.